GYM EQUIPMENT FOR SCHOOLS
At Gym Equipment we have over 20 years' experience in supplying gym equipment for schools across the UK, including primary, secondary, and high schools, and independent schools. We offer a professional gym design and consultancy service to help you plan, create, or reinvigorate your gym space. With over 30 leading gym brands, including Life Fitness, we can help you achieve the best training facilities for your school and students. Enquire today to find out more about our school fitness equipment and commercial gym design service.
FREE Designs. Price Match. Creative Solutions.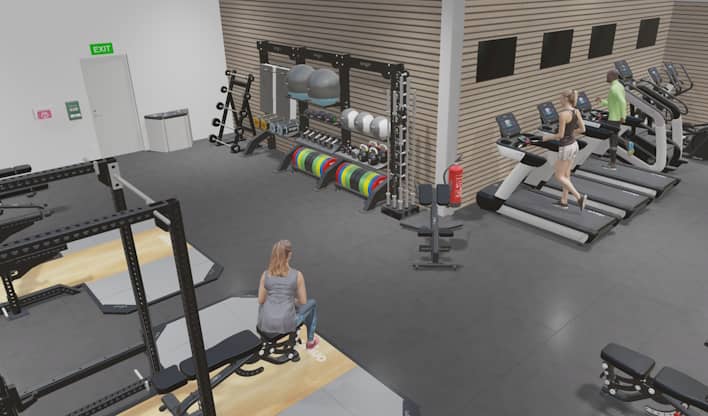 FREE DESIGNS - NO COMMITMENT
School gyms offer students and staff the chance to exercise regularly. We frequently provide advice, ideas and school gym designs for primary and secondary schools, colleges, and LEAs, as well as quotes for the equipment you need. Whether your budget comes from donations, government funding, or allocated school spending, we can make it happen.
With a growing emphasis on children's well-being, physical activity aids their overall physical and mental development, and we want to help you achieve that goal.
WHY CHOOSE US?
We're experienced in listening to understand your exact requirements, your time scales and, of course, your budget restraints. Whether you're creating a small studio or a new strength and cardio space with proper functional fitness equipment, we can tailor a quote to suit.
We can also quote for installation and long-term servicing plans. Your school gym equipment does not have to be paid for in full as we have gym finance options including leasing.
6 REASONS TO CHOOSE US
01
TRACK RECORD
Over 50 successful school gym projects. Primary, secondary & special schools.
02
VALUE FOR MONEY
No upfront costs. FREE designs and quotes. Over 5000 products to choose from.
03
EXPERIENCED
Specialists in gym design, flooring and installations. Knowledgeable too!
04
PRICE MATCH
We're not tied to any single brand so we can choose what's right for you.
05
FINANCE OPTIONS
Buy or lease. Split invoices for your cost centres. Low deposits to secure equipment.
06
SERVICE & MAINTENANCE
We can also provide quotes to annually clean and service your machines.
SCHOOL GYM FLOORING
Making sure your school gym floor is safe, as well as being practical, is often overlooked. GymEquipment.co.uk specialises in advising on your gym flooring needs which doesn't always mean they need to be glued to the existing floor.
From replacing floors, fitting above 'sprung' sports hall flooring, or reducing noise and vibrations, our gym flooring solutions include high-performance rubber tiles of varying thicknesses from 7mm–40mm. We also offer a selection of gym mats for schools.
MIRRORS
With health and safety so important for schools, we choose to offer only Pilkington Optimirror 6mm mirrors. They are safety-backed to minimise glass shards if broken and come with polished edges. They are also professionally installed for you.
You can order whatever size(s) you need. Perfect for students to check their form as well as inspire correct equipment use. In smaller gym spaces they also make the room look bigger and definitely make the room lighter.
"Parents raised a substantial sum that we wanted to spend wisely. Russell and Will helped to maximise the amount of equipment for our existing gym space including some functional and CrossFit equipment that complemented what we had already. Thanks again for all your hardwork and patience. The split invoice and low deposit was perfect for us."