COMMERCIAL GYM DESIGN
Here at GymEqupment.co.uk, we have over 20 years' experience advising in commercial gym equipment and design. We consistently design and deliver unique gym spaces for a wide range of clients across the commercial landscape. Working closely with each client, we have created some unique and extraordinary spaces that were on budget and, more importantly, on time. Think offices, hotels and spas as well as personal training studios, school gyms, and other types of commercial gyms.
20 Years Experience. Teamwork. Results.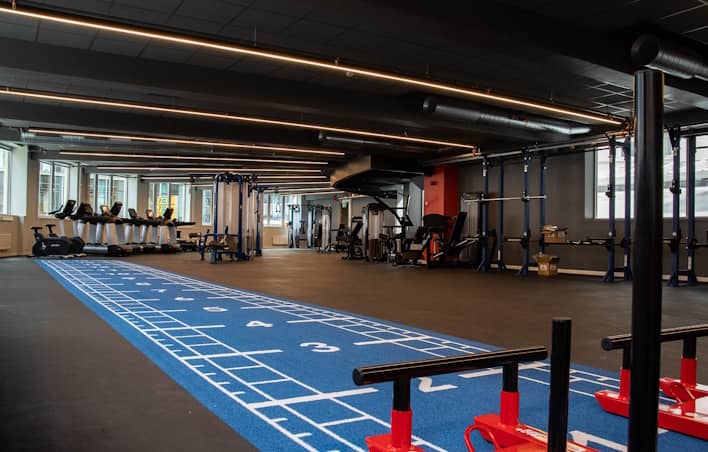 WHY US?
You are looking for a gym. We know how to design gyms. Listening to your employee and/or customer's needs, we then create a vision for your commercial gym space.
From the initial gym design, and re-designs if necessary, to the installation of your selected commercial gym equipment we look to balance your vision with the way you want your gym to work. If you're still in the planning stage, take a look at our commercial gym equipment buyer's guide to help you narrow down exactly what you'd like to include.
CONSULTING
Designing a large gym takes time, creativity, and consultation. With more than one stakeholder, decision-making becomes more important. We're here to provide help and advice, but ultimately it's your gym space, so we need to understand your needs in order to create a design for you.
Our experience and knowledge mean we've successfully managed and created some amazing spaces across the UK.
6 REASONS TO CHOOSE US
01
EXPERTS
Industry knowledge and expertise. Experienced consultancy and equipment provider that delivers.
02
LISTENING
It's your gym. We take your ideas and use our experience to get the perfect mix for you.
03
INDEPENDENCE
We're independent so can offer you any brand and any mix of brands for the right solution.
04
AGILE
Making sure we consider every angle from flooring to equipment and design.
05
FINANCE
With business leasing or part leasing options, we can always make it work for you.
06
VALUE FOR MONEY
There's no extra charges. We build what you want at the price that suits.
DESIGNING
Design is not just looks. Good design is also in the feel of the space. Finally, for gyms, design is about how the space and equipment get used. We consider and discuss all of this before we create a vision for your full commercial gym fitout.
Then we recreate a vision if it's not right, or your criteria changes. It's your gym space, so it's our job to give you the best gym solution we can.
PARTNERS
Our gym brand partners are all experts in their fields, from equipment, interior design, tech and audio to commercial gym flooring and mirrors. We rely on specialists to ensure your job is the best it can be.
Our experience in the fitness equipment arena means we understand exactly who is best, to help us achieve the solutions you ask for. Get in touch today to start your commercial gym design.
"With a huge brief, reasonable budget and a fine timeline, the GymEquipment.co.uk team produced superb initial ideas from which we created the final end product. After about 3 or 4 designs and numerous quotes, we finally got there. The results are nothing short of amazing."