GARAGE GYM CONVERSIONS
If you're in the process of planning a garage gym conversion, why not consider our gym design ideas to help you make more of this underutilised room as a fully loaded gym space? An easy way to create a home gym for less, a garage gym is the perfect solution. We'll help you find the right home gym equipment and the right gym flooring to withstand cooler temperatures and possible dampness, so you can work out effectively the way you want. Enquire today to find out more about our gym design service.
Innovative. Experienced. Value for Money.
CREATE YOUR GARAGE GYM
We're experienced in a wide range of solutions for garage gyms — none of which break the bank. There are certain things you must consider in a garage space, so we can help walk you through the key elements. This ensures you get exactly the right equipment for your needs. Whether you buy in stages or all in one go, we know how to take your thoughts and create what we think fits the brief.
UNIQUE ISSUES
Garage home gym spaces can come with a unique set of problems and challenges. Whether the space is internal or external, insulated or not, the type of subfloor and the actual construction methods used are all important factors.
With our expertise, we can talk you through the do's and don'ts and, of course, new ideas you may have. All of this can help you create a vision and a plan - think PT Studio Gym Design - in order to create your perfect workout space.
5 REASONS TO CHOOSE US
01
KNOWLEDGE
Every garage is different. Conditions in garages change and we know all about the effects for the equipment you choose.
02
EXPERIENCE
With more than 50 garage gyms completed, we know what works and what doesn't - from experience!
03
DESIGN
Every design is unique. We offer free advice, free 3D planning images and no extra costs.
04
EQUIPMENT
Not being tied to one brand means we can create the perfect gym set up for you - within your budget!
05
VALUE FOR MONEY
Providing the best equipment for the best prices - we always offer the best value for money.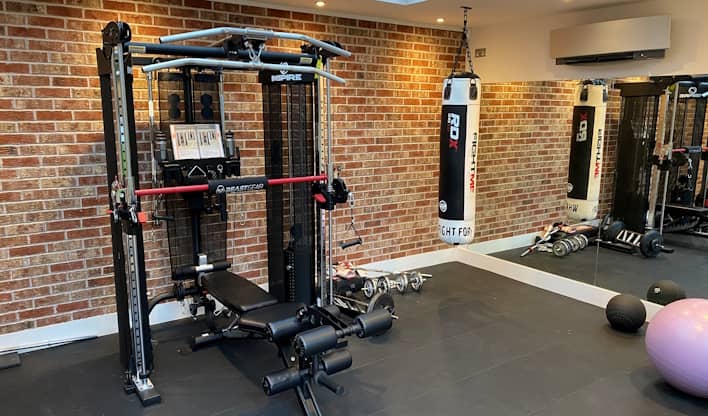 THINGS TO CONSIDER
Whether you're interested in strength, HIIT or pure cardio workouts, making sure your garage gym is big enough, high enough and dry enough for your garage gym equipment is pretty much the key starting point. From here we can create the vision.
Consider the noise, vibration, and of course security for your new and expensive equipment. You can also think about things like gym mirrors for your garage, as well as air-con and audio if the space is right.